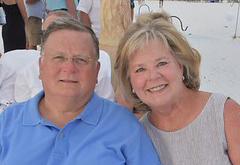 If you are looking to begin a physical fitness program, I highly recommend your considering Cindy Wigness at Fitness Authority!  For 11 years, my husband and I met with Cindy twice a week.  Continue
She is a sports rehabilitation provider who focuses on rehabilitation of sports related injuries. I have previous experience with this provider and have found her techniques and suggestions to patients to be conservative, safe and based on my patient's improvements, successful.
Last August my guardian angel appeared as a professional trainer and saved me from a wheelchair. I can't thank you enough for all you have done.
I feel like Cindy motivates me to do my best, I feel comfortable working with her, I am always making significant progress, and she addresses my individual needs.
Since we have been working together, I've lost 25 pounds and kept it off. I could not have done that without your help. . .
I would like to give a strong, positive recommendation for Cindy Wigness as a TRUE Fitness Authority.
This is a thank you note for your very good care – and your expertise. I am indeed an admirer and appreciate all your work – but most of all your care.